Page Hero Block
Learn about PFAS
What Are PFAS?
What it is, where it comes from, and what are the impacts on drinking water.
Block Group
Text Block - Normal - Left
PFAS (Per- and Polyfluoroalkyl substances)
PFAS are a large group of man-made chemicals that have been manufactured and used around the world since the 1940s for many industrial and consumer purposes including the coating of fabrics, nonstick cookware, food packaging, and firefighting foam.
These chemicals can accumulate over time and have been found in both the environment and the human body. They do not break down easily in the environment or the human body and are sometimes called "forever chemicals".
Of these chemicals, the most extensively produced and studied have been PFOA and PFOS.
How do these chemicals get into the environment?
How these chemicals get into groundwater is still being studied, but PFAS in drinking water usually comes from a nearby source such as a facility where it is produced, used or disposed.
Assessments of potential risks of PFAS in areas tributary to our drinking water supplies was conducted in 2019 in accordance with DPH guidance. Sites that were identified as potential PFAS generators have been prioritized for sanitary inspections by the company.
PFAS can also enter water sources from Aqueous Film Forming Foam (AFFF) used for firefighting at military bases and airports. None of the Connecticut Water sources were affected by the widely reported incidents at Bradley International Airport, and there were no military bases found in areas tributary to our water sources.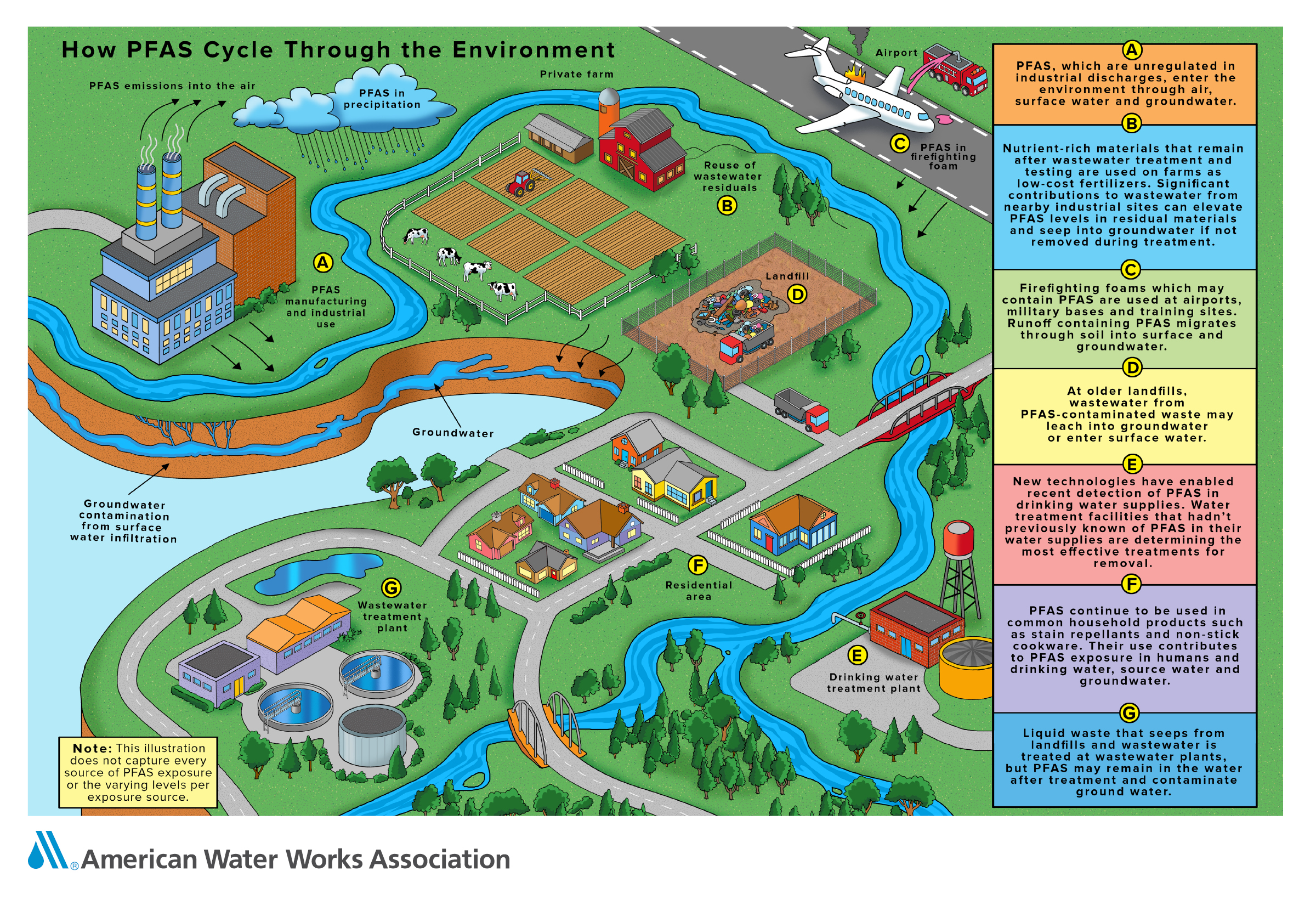 What are the current drinking water standards?
There are currently no state or federal drinking water quality standards (Maximum Contaminant Level or MCL) for any chemical in the PFAS family.
At this time, the United States Environmental Protection Agency (EPA) and regulators in Connecticut and states across the country are working to develop appropriate standards for these chemicals in drinking water. Connecticut Water Company will be engaged with our industry colleagues and regulators as the process continues, to ensure we best meet the needs of our customers.
In 2016, the US Environmental Protection Agency (EPA) established a health advisory for PFOA and PFOS levels at 70 parts per trillion (ppt). This target concentration is for either contaminant alone or for the sum of the two.
The EPA issued a PFAS Action Plan in February 2019 with a goal to identify EPA-led short-term actions, longer-term research, and potential regulatory approaches designed to reduce the risks associated with PFAS in the environment.
In March 2023, EPA proposed a National Primary Drinking Water Regulation (NPDWR) to establish legally enforceable levels, called Maximum Contaminant Levels (MCLs), for six PFAS in drinking water. PFOA and PFOS as individual contaminants, and PFHxS, PFNA, PFBS, and HFPO-DA (commonly referred to as GenX Chemicals) as a PFAS mixture. EPA is also proposing health-based, non-enforceable Maximum Contaminant Level Goals (MCLGs) for these six PFAS.
The proposed rule would also require public water systems to:
Monitor for these PFAS
Notify the public of the levels of these PFAS
Reduce the levels of these PFAS in drinking water if they exceed the proposed standards.
A final announcement on the proposal is expected by the end of 2023.
You can read more about that here: https://www.epa.gov/pfas
Connecticut Water has always been, and will continue to be committed to complying with all EPA Safe Drinking Water Standards including any that are added as a result of this proposal.
PFAS in Connecticut
In the absence of federal standards, several states have adopted their own standards.

The Connecticut Department of Public Health (DPH) set a Drinking Water Action Level in 2016 for PFAS that was the same as the EPA Health Advisory (70 ppt) at that time and included three additional PFAS (PFNA, PFHxS, PFHpA) to the group. The sum of this group of five PFAS was to be below the target concentration of 70 ppt. Any testing being done by Connecticut Water on our sources includes testing for all five PFAS compounds.
Test Results for Connecticut Water Supplies
PFAS test results are available in our Water Quality Reports, and the most current PFAS sampling data by water system can be viewed on our Water Quality Reports page. 
Connecticut Water is in full compliance with Connecticut Department of Public Health (DPH) and United States Environmental Protection Agency (EPA) drinking water standards and the guidelines for risk assessment of all water sources and systems as well as all the monitoring and testing requirements under the Unregulated Contaminate Monitoring Rule (UCMR) to date.
The company voluntarily started testing our water systems for PFAS in late 2019. Surface water supplies, which provide for over 50% of our average daily water demand, were tested first and PFAS were not detected at any of those supply surfaces.
Further testing continues among Connecticut Water's 200 groundwater sources. A small number of those sources have contained detectable levels of PFAS. As those levels have been detected, any customer who may be served by that source has been notified by mail. All sources continue to meet water quality standards set by DPH and EPA.
More resources:
https://portal.ct.gov/DEEP/Remediation--Site-Clean-Up/PFAS-Task-Force/PFAS-Task-Force
https://portal.ct.gov/DPH/Drinking-Water/DWS/Drinking-Water-Section
https://portal.ct.gov/DPH/Drinking-Water/DWS/Per--and-Polyfluoroalkyl-Substances
FAQ Accordion
FAQs
Frequently asked questions about PFAS
Nearly everyone has low levels of PFOS and PFOA in their blood, likely from their widespread use in consumer products and food packaging.
PFAS can remain in the human body for a long time, and can build up over time. Because of this, even low levels in drinking water can be a health risk if exposure is long term, but having PFAS exposure or PFAS in your body does not mean you will necessarily have health problems now or in the future.
The advisory guidelines by the EPA and DPH are set based on daily exposure to the most vulnerable consumers. If you are a sensitive consumer, including pregnant women, nursing mothers and infants, you may choose to minimize your exposure by not drinking water that has found PFAS in water quality testing. Please be advised, however, that PFAS have been found in some bottled water. Ensure that your bottled water supply is PFAS-free or that you're utilizing additional at home water treatment measures, as outlined below.
If you are concerned about your exposure, you may want to use tap water with non-detect PFAS levels for drinking, cooking, and making infant formula. Even though the risk is very low, you may also want to use water with non-detect PFAS levels for brushing your teeth, washing produce, and cleaning items like dentures or pacifiers. Bottled water has also been found to contain PFAS; please check with the bottled water brand and/or your physician.
It is okay to bathe and shower in water that contains PFAS, as these compounds are not well absorbed through the skin. Boiling water does not lower PFAS levels and is not recommended as it may slightly increase the concentration of PFAS in the water.
You can also use an at home water treatment system that is certified to remove PFAS by an independent testing group such as National Sanitation Foundation (NSF), Underwriters Laboratories (UL), Water Quality Association or the CSA group.
If you have specific health concerns related to PFAS exposure, consult your doctor or health professional.
Yes, water supplied by Connecticut Water is in compliance with all state and federal drinking water standards. If there are further requirements for PFAS testing or additional information becomes available on the health considerations or drinking water standards for PFAS, we will communicate to customers.
As EPA, DPH, and the Connecticut legislature develop further testing protocols, assessment guidelines, and standards, Connecticut Water will continue to meet any requirements for monitoring and testing of our systems.