Page Hero Block
Financial Support
H2O - Help 2 Our Customers Program
At Connecticut Water we know how important it is for our customers to have a safe reliable supply of drinking water. At the same time, we understand the realities that customers can face when experiencing financial hardship. We are pleased to offer our H2O – Help 2 Our Customers program to provide financial assistance and/or payment plans to support customers who may be experiencing challenges and help maintain uninterrupted water service during these times.
Block Group
Text Block - Normal - Left
The financial assistance program is limited to eligible single family residential customer accounts including individuals who are Connecticut Water customer and reside in a condominium unit.
Eligibility is based on income at or below 200% of the Federal Poverty Level Guidelines.
Customers will be qualified utilizing the enclosed Eligibility Verification Authorization.
Connecticut Water will need to receive the completed Eligibility Verification Authorization signed by the local agency before assistance can be provided to customers who otherwise qualify for the program.
We do not anticipate limiting the number of times an eligible person may participate in the program, but will require an eligibility review annually or require the individual to reapply.
Information will be included on shutoff notices and through our office and field customer service representatives about the state's 211 Infoline and where to find local agency contacts.
Customers participating in the program will be offered free water conservation kits, conservation education materials, and leak dye tablets to find silent toilet leaks to make sure they are not using more water than they need to. A service representative can be sent to the customer's premises to check for leaks if the customer needs additional assistance.
Customers Meeting Income Eligibility Verification Criteria
Upon agency determination of eligibility, and CWC approval, the Company will:
not terminate water service as long as the customer maintains the agreed upon payment arrangement,
waive any shut off or turn on fees along with any interest charges if service has been terminated, and
issue credit to the customer's account equal to 50% of the balance due
set up a payment arrangement for the remaining balance
The customer will only be responsible for keeping the scheduled payment arrangement on the past due balance. The credit will be applied as a one–for-one match as the payments are made. The customer will be expected to keep current on new bills as they are incurred during the time of the payment arrangement.
Customers are required to reapply annually so that income levels and eligibility can be re-verified. The Parties will set a uniform date upon which re-verification or reapplication will be determined.
Example of Payment Assistance for Customer on Deferred Payment Arrangement (DPA) Plan: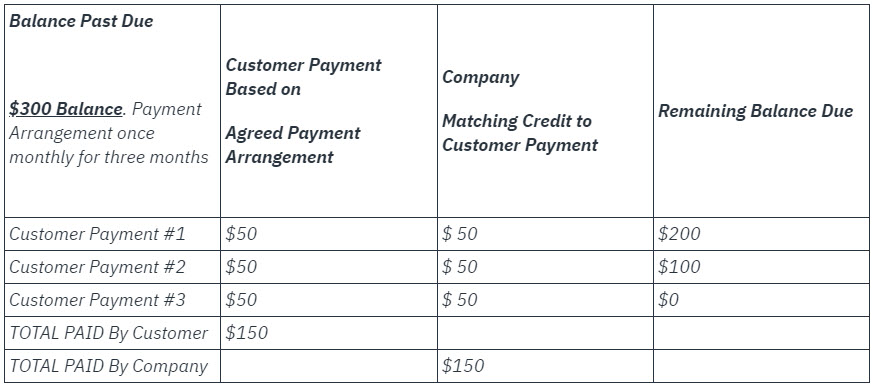 Download the H20 Program Eligibility Verification Form
Block Group
Image Copy 50/50 Block - Image Left
Support
Need to speak to someone?
Customer Service Inquiries and 24 hour Emergency Service:
1.800.286.5700